Techsmith SnagIt 螢幕影像擷取程式
Techsmith SnagIt 是一套群昱公司代理的螢幕影像擷取程式,全方位的軟體 ,凡視窗、滑鼠游標、區塊、捲動網頁,DOS畫面及文字全能一指搞定。可以抓取螢幕上面任何文字、圖形、網頁、影片,進而編輯修改抓取的畫面,內建編輯程式,且可輸出多種圖片格式,如:GIF, JPG, TIF,BMP, EPS, PSD, PNG, ICO, CUR ..等等。支援多項軟體,如Word、Excel、PowerPoint...等等 ,為目前市面上最專業的螢幕擷取程式。
分類: 螢幕側錄及擷取軟體
---
Simple, Powerful Screen Capture
Software and Screen Recorder
Create images and videos to clearly get your point across. Spend less time trying to explain things and more time on the work that matters.
Here's how Snagit works
Snagit makes creating high-quality images and videos a breeze.
Capture Windows and Mac
Take a screenshot or capture a video of what you see on your computer screen. Choose whether you want to capture an image or record your screen after you make your selection, and resize the capture area right down to the pixel.
Enhance screenshots
Snagit is way more than just a snipping tool. Customize and edit every screenshot with professional-quality markup tools. Trim any part of your recordings. Or convert videos to an animated GIF.
Deliver results
Capture a website, record an online meeting, or send someone feedback in an email. Get a short URL to share your screenshots or recordings with anyone.
Create visuals that speak louder than words
A visual really is worth a thousand words. Snagit software gives you the complete tool for screen capture and video recording on Windows and Mac. Combine traditional screenshots, video recording, image editing, and file sharing. It's fast and easy to visually explain anything on your screen.
The best screen capture and recording software on Windows and Mac
Snagit's image and video capture is powerful, but not complex. All-in-One Capture® grabs your entire desktop, a region, a window, or a scrolling screen. Grab any webpage or application—all with a single hotkey or click.

Image capture. Make sure to capture exactly what you need. Click and drag anywhere on your screen to select a region with pixel perfect accuracy.

Video capture. Sometimes it's easier to talk things through. Record, narrate, and trim quick videos of your screen for demos, feedback, reviews, and more.

Mobile capture. Capture beyond your desktop. Get TechSmith Fuse for your Android or iOS phone. Send photos and videos from your mobile device straight to the Snagit editor.




Panoramic capture

Capture wide, horizontal scrolls, infinitely scrolling webpages, and everything between. Take one, precise screenshot instead of stitching individual captures together.

Scrolling capture

Take a full-page screenshot even if it's not showing on the screen. Grab the horizontal, vertical, or entire scrolling area with just a click.

Create Animated GIF

Turn any short screen recording into an animated GIF. Show off quick tasks and workflows without a large file size.

See How it Works




Capture videos with a simple, intuitive screen recorder

Context is everything. Record video of your desktop for simple how-tos or video instructions. Our screen recorder is the best you'll find. Create software or product demos, video tutorials, and more.

Webcam recording. Toggle between webcam and screen recording during a video. Add a personal touch with teammates or clients, no matter where they are.

Video trimming. Quickly get rid of any unwanted sections from your screen recordings. Remove ums, ahs, coughs, extra time from the beginning, middle, end, or any mistakes you want to correct.

Record audio. Include audio in your videos from either a microphone or your computer's system audio.



Turn plain screenshots into clear, concise communication
Comment over your screen capture using text boxes. Point out your ideas with arrows and shapes. Or simply highlight key areas. Snagit's toolbar is completely customizable, so all your favorite tools stay front and center.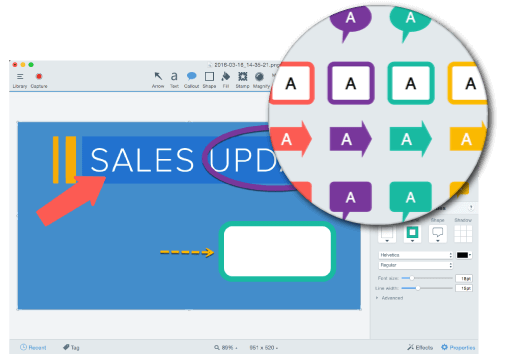 Background Auto-Fill and Magic Wand Tool. Move objects or remove the image background without affecting the original image quality. Perfect for fast image edits in documentation, website mockups, and more.

Annotate screen grabs. Add personality and professionalism to your screenshots with a variety of pre-made styles. Or you can create your own.

Resize images. Get your images to the correct size, right down to the pixel. Use the Resize option to enter new dimensions to scale the size of the image.
System Requirements
Windows System Requirements
Microsoft Windows 10, Windows 8, Windows 7 SP1 (32-bit and 64-bit), or Windows Server 2012 R2
.NET 4.6 or later
2.4 GHz single core processor (dual core i5 required for video capture)
1 GB of RAM (4 GB required for video capture)
400 MB of hard-disk space for program installation
Video and Panoramic capture on Windows N requires the Media Feature Pack for Windows N
macOS System Requirements
10.10 (Yosemite), or higher