TechSmith Camtasia Studio 螢幕錄製軟體
Camtasia Studio是TechSmith旗下一款專門錄製螢幕的工具,它能在任何顏色模式下輕鬆地記錄螢幕動作,包括影像、音效、滑鼠移動軌跡、解說聲音等等。另外,它還具有即時播放和編輯壓縮的功能,可對視頻片段進行剪接、添加轉場效果。輸出包括Flash(SWF/FLV)、AVI、WMV、M4V、CAMV、MOV、RM、GIF動畫等多種常見格式,是製作視頻演示的絕佳工具。
分類: 螢幕側錄及擷取軟體
---
3個簡單步驟完成驚人的影片編輯

錄製你的螢幕
Record anything — your whole screen or just a window. Or, add video, images, audio, and PowerPoint presentations that you already have.

進行編輯
A simple timeline makes editing video easy. Combine or split clips, trim, and speed up or slow down footage. Then, instantly preview inside the video editor.

增加特效
Give videos polish with professional video editor effects. Add highlights, animation, titles, transitions and more. Simply drag and drop the effects onto the timeline.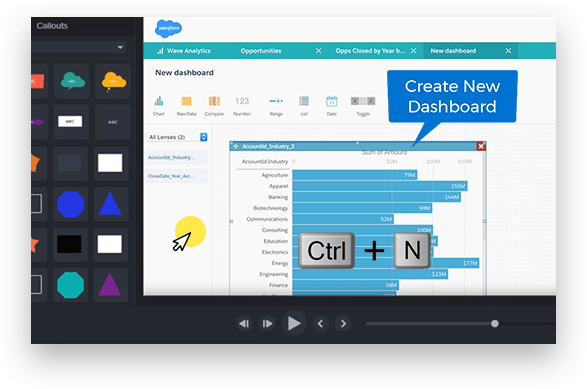 培訓與教程
Spice up your training and tutorial videos to keep your viewer's attention throughout the video.
紀錄滑鼠移動
Make the cursor larger, animate clicks, and add a highlight to make mouse movements easier to track.
顯示點擊
Record keystrokes on screen to make it easy for users to follow along.
增加註釋
Drag in notes, captions, shapes, highlights, and more. Camtasia makes it easy to help users understand.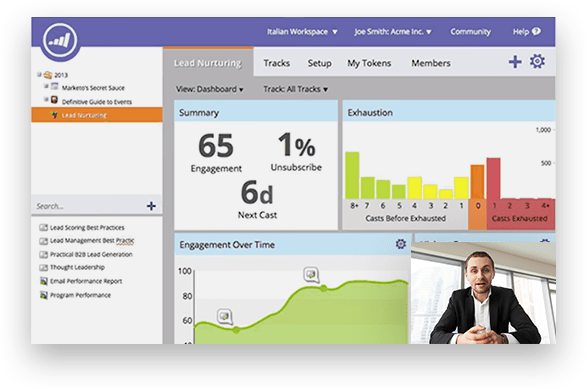 行銷與DEMO
Create videos that wow your customers. Camtasia is the perfect video editor for YouTube, Vimeo, Google Drive, and more.
托放影片編輯器
What you see is what you get. Every effect and element in your video can be dropped and edited directly in the preview window. Then export videos at broadcast ready 4k resolution.
動態圖形
Layer intro and outro sequences and title animations to create engagement throughout all your videos.
曲目
Use music to set the mood of your video. The editor includes a library of royalty-free tracks, or you can import your own.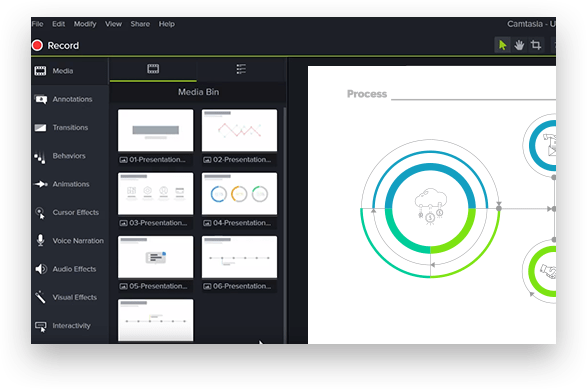 演講
Transform PowerPoint slides and webinar recordings into a compelling video.
放進PowerPoint
Just drag a PowerPoint presentation into Camtasia, and select the slides you want to import.
添加多媒體
Add videos and narration to slides to more effectively communicate your message.
Webcam 錄製
Record webcam footage to add the energy of a live presentation to your footage.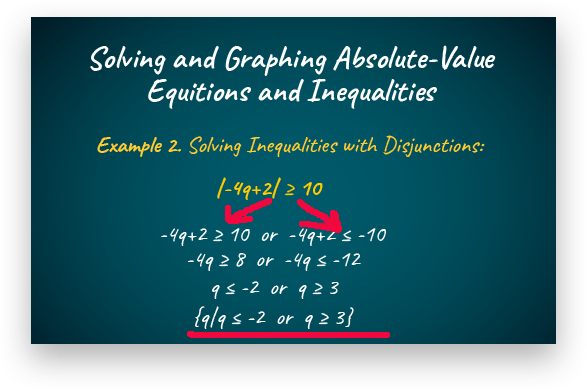 教育
Create engaging video lessons without high learning curves.
影片教學
Make videos for flipped, hybrid, or online learning.
互動式測驗
Add quizzes as part of the video and record results to see how students are performing.
追蹤結果
See who is interacting with your videos to improve learning outcomes.
---
適用所有影片的強大編輯功能
Camtasia is the best all-in-one screen recorder and video editing software. Every feature is built with beginners and experts in mind. Get features you won't find in free video editors.
Webcam
Webcam lets you add a personal touch to your video.
媒體
Import images, audio files, and video files up to 4K resolution.
多軌道時間線
Build your videos quickly with multiple tracks for images, video, text, and audio.
註釋
Arrows, callouts, shapes, and more help you get your point across.
轉場
Add an intro/outro to the beginning or end of a clip, image, shape, or text.
動畫
Zoom, pan, or create your own custom motion effects.
語音描述
A great way to add context to what you're showing.
聲音效果
Add audio effects to recordings, music, or narration to enhance your video.
視覺效果
Adjust colors, add a drop shadow, change the clip speed, and more.
互動
Add quizzes to see who is watching your videos, and how much they've viewed.
綠屏
Put yourself in your video making it appear like you're right in the action.
System Requirements
Camtasia (Windows)
Microsoft Windows 7 SP1, Windows 8, and Windows 10 (Required: 64 Bit versions only)

2.0 GHz CPU with dual-core processor minimum (Recommended: Quad-core i5 processor or better)

4 GB RAM minimum (Recommended: 8 GB or more)

2 GB of hard-disk space for program installation

Display dimensions of 1024x768 or greater

Microsoft .NET 4.6.0 or later version (included)

Dedicated Windows-compatible sound card, microphone, and speakers (Recommended)

Windows N requires the MediaFeature Pack for Windows N
Camtasia (Mac)
Mac computer with an Intel processor (Recommended: Dual core 2.0GHz or faster)

macOS 10.10 or later Quartz Extreme support (rendering is not supported on external USB monitors)

2GB of RAM (Recommended: 4GB of RAM or greater)

4GB of available disk space (minimum)

QuickTime X or later

Playback using the Smart Player is supported on Internet Explorer 11+, Chrome, Edge, Firefox, Safari 9+, iOS 9+, Android 4+ (Latest Chrome required)

Screen Capture and Recorder
Create images and videos to give feedback, create clear documentation, and show others exactly what you see.

Let anyone on your campus easily record lectures or training sessions from virtually anywhere.

Screencast.com
Video and Content Hosting
Easily store and share the great content you create using TechSmith products with Screencast.com.

Morae
User Experience and Market Research
From focus groups to usability studies, Morae gives you insight into your users' experiences by providing powerful data.