i-net PDFC PDF檔案比較工具
對PDF檔案進行直觀,智能的比較。包含實際內容,而不僅僅是文本或圖像。i-net PDFC智能地比較檔案中的內容。在視覺上華麗的顯示中顯示出任何差異。
分類: 檔案或資料夾比對軟體
---
Comparing is as simple as dragging two PDFs into the compare window and clicking on the compare button. The result is a simple, intuitive overview of any differences detected in the two PDFs.
Instead of only comparing text in the PDFs, or converting the PDFs to images and comparing those pixel by pixel like other comparison tools, i-net PDFC can intelligently compare the actual content elements in your files.
i-net PDFC is a pure Java application. This means it runs on any platform with a Java Runtime Environment 81) - nearly every modern platform such as Windows, macOS, Solaris or Linux/Unix.
OCR recognition and document language detection

2)

Export results and differences report as PDF

Export comparison report as XLS, XLSX, ODS and RTF in addition to PDF

Improved Header/Footer selection

Improved whitespace and character separation handling

Improved image and gradient handling



Plus License Features
The following features enable you to integrate i-net PDFC into your own environment using build scripts, the API, or your favorite CI tool such as Hudson/Jenkins.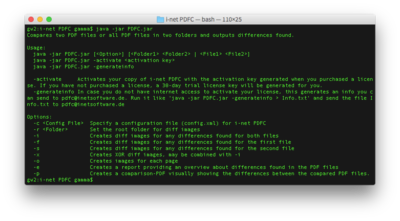 command line

tool to compare PDF files or directories

Batch comparison

of all documents in entire directories

share configuration with GUI and vice versa

fine-tuned comparison settings

output the difference pages as image files

print or create a PDF file containing the comparison results

no page number and page count limitation

3)

allows a broader access to core functions of PDFC to e.g. create custom result filters and resemble the command line functionality

i-net PDFC provides a library to be embedded in your server software or program.
Server License Features
Introduced in version 4, the i-net PDFC Server is a completely new way of working with PDF comparisons. It has the same powerful comparison backend as the Desktop Application but allows access to multiple users with the ability for each user to store their own comparisons.
Using the REST-ful interface, services can create new comparisons, monitor their execution and handle the results.
See a sample at our demo website or test your own documents now.
Data privacy

: The server is set up in your own infrastructure

Export

of results and differences as PDF

Export comparison report as PDF, XLS, XLSX, ODS or RTF

Sharing

of comparison profiles and results

Users and Groups Manager

with extendable authentication backend

Task Planner

to schedule (batch-) comparisons or create one-off tasks

REST-ful interface

for non-interactive and automated use or website integration

JUnit library

to compare and verify documents using an i-net PDFC Server on the network, e.g. CI integrated tests

Statistics and Diagnostics Module to monitor the server status and manage executed comparison jobs

Plugin system to add more filters, new document types or authentication backends
---